Bowing & Buckling Foundation Wall Repair Near Nepean, Ottawa, Orleans
The PowerBrace™ Foundation Wall Repair System for failing walls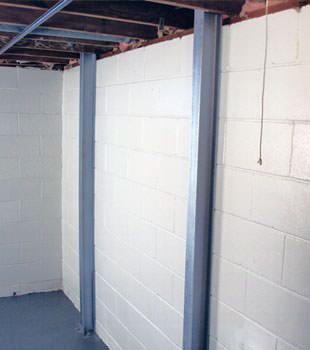 PowerBrace™ keeps bowing walls at bay.
When foundation walls begin to buckle, bow or tilt inward, homeowners are correct to be alarmed. Outside pressure from soil and water can actually cause foundation walls to collapse!
The PowerBrace™ is a patented foundation wall repair system that's designed to stabilize failing basement walls and provide the potential to straighten walls over time.
These steel I-beams will stabilize the wall in its current position without any further adjustment. Over time, the PowerBrace™ System can be tightened to make bowing or tilting walls straighter and more vertical.
No matter what's happening with your foundation, we can help! Call us for a free basement wall repair quote today! We serve Ottawa, Nepean, Orleans, and many nearby areas in Ontario.
Product Features
No outside excavation required
Can be tightened to allow for improvement of the wall over time
All components are zinc-coated for rust resistance
Neat, clean appearance in the basement
Minimal disruption of basement space
Wall reinforcement can be paired with other foundation solutions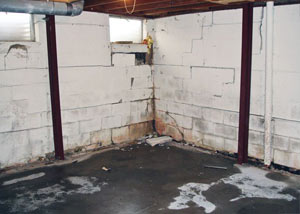 Sub-par I-beam systems will rust and deteriorate over time. The PowerBrace™ system includes a zinc-coating that protects it from this kind of corrosion.
When possible, we recommend repairing bowing or buckling foundation walls with Geo-Lock™ Wall Anchors.
However, this wall anchor system requires access to the earth outside of the foundation. Sometimes, property line issues eliminate this as an option.
When outside access is impossible, ask your foundation professional to explain the advantages of the PowerBrace™ System.
Our experts will be able to examine your foundation and determine if this repair strategy is the best fit for your structural issues.
The PowerBrace™ employs a unique, patented approach to stabilizing and straightening bowed and buckled foundation walls over time.

More About Foundation Wall Repair
More About Our Foundation Repair Products
Installing the PowerBrace™ Wall System
The PowerBrace™ can be installed with no disruption to outside soils or landscaping. This foundation wall system installs quickly in your home, immediately and permanently halting the inward movement of your foundation walls.
Your foundation wall repair contractors in ON
At Atlantic Basement Systems we want to help you restore your bowing, buckling, tilting, or shifting foundation walls back to their original, structurally stable condition. To help you decide if we're the company for you, we offer free foundation wall repair quotes throughout our Ontario service area.
Each of our free estimates includes a no-obligation written price quote, an on-site consultation, and a copy of our 96-page full-color book "Foundation Repair Science".
We proudly serve Nepean, Ottawa, Orleans, surrounding areas such as Renfrew, Gloucester, Kanata, Brockville, Carleton Place, Vanier, Smiths Falls, and many other parts of ON.